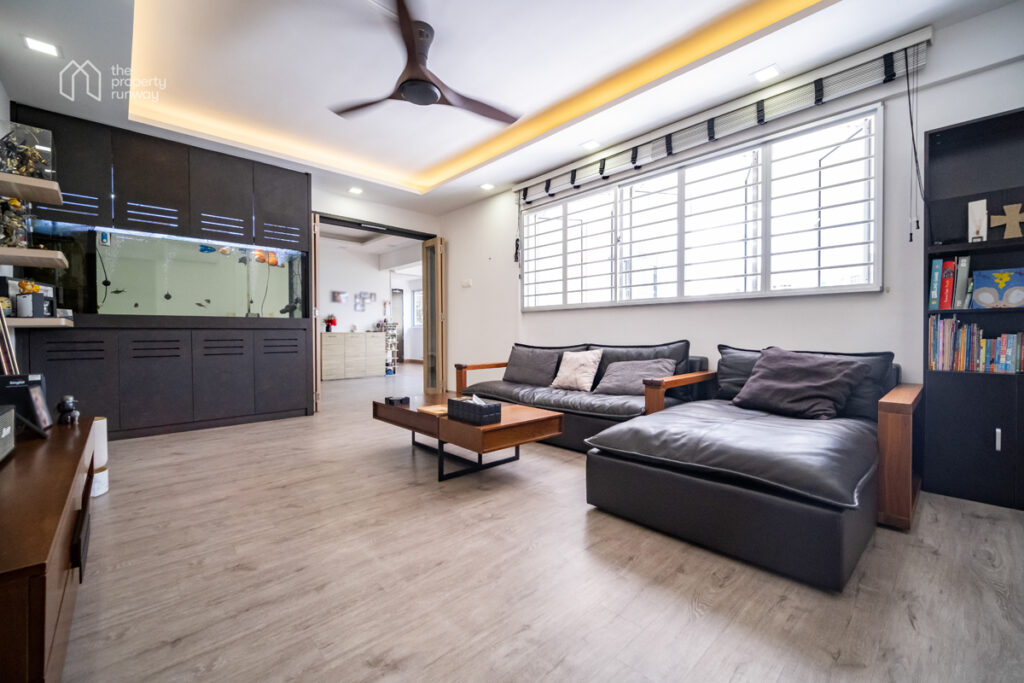 Image: 666 Yishun Jumbo Flat
I quote from the article:
In one of the most unexpected, stunning property transactions to happen during the Covid-19 outbreak, a 40-year-old Ang Mo Kio HDB jumbo flat managed to fetch a price of $1,030,000—becoming the first ever flat in the town to break the million dollar price barrier.
Sold for $1.03 million, this designer house was bought in 2014 and cost $200k in renovations!
I'm pretty sure the top search word right now is 'What is a Jumbo Flat?' after the above headline appeared yesterday. I sat up for sure but I sat down again after I realised the transaction was done before the Circuit Breaker. The lucky buyer can certainly enjoy his house and all the wonderful branded appliances this seller has left behind!
Now back to Jumbo Flats…
Out of all HDBs, Jumbos are definitely one of my favourite. There are many reasons to love a jumbo flat, from its crazy sizes from 1400 sqf onwards (the ones sold at $1.04mil was 1916 sqf) to the flexibility of the space. The entire layout can be changed according to what you need, with only limitations to the location of the bathroom and kitchen.
Here are some little known facts!
1. Singles Can Buy This
As long as your income is strong enough, you can buy it as a single owner. However, you will not be eligible for any grants! Note that prices start at $700K, so your income will have to be at least $8,760.
2. Rental Income
You can create a dual key unit, which means there are two parts to the house. You can rent out part of the house for income, while keeping the other part for yourself. This is a sample of my client's layout done up so that they can live with their parents.
I love this kind of arrangement. Can you imagine that one day, if they decide to move out, they can rent out the larger part of the house and the smaller part of the house separately.
Assuming you bought a unit for $700K, your monthly mortgage is $2,628.27. And that you can rent your unit at the following rentals (worst case scenarios) based on current market rental prices in the Yishun area.
Larger 3 Bedroom side – $2,000
Studio side – $1,200
In total, you are looking at a rental of at least $3,200, which means a cash flow of about $500 per month from rentals. That is not too bad for a worst case scenario, is it?
3. You can create this on your own
Not many people know this but you can apply to join the units. We encourage you to go and check if it is possible to combine and convert, before you spend any money excitingly. You can have your Conversion Scheme Application started here.
The savings could be nearly $100K, since buying two 3 Room HDBs could be around $600K++
There are areas with higher possibilities for such conversion, but honestly, the process could take a long time, and in this COVID situation, would you risk having to spend extra time on paperwork on top of renovations delays?
4. Old Gold Duck
Some of you are probably going to be shocked at the price that I quote – $300K for a 3 room HDB? Well, Jumbo flats tend to be in mature locations and found in older flats.
So far, the youngest ones have been found in Yishun, Sembawang and Woodlands. The slightly older ones are in Ang Mo Kio and Bishan (Yes, Bishan has them too, but very little, and I've only seen one for sale in the last 7 years. My buyers were heartbroken to miss it).
The reason I'm saying it's an old gold duck is because it's a great place to stay and maybe rent for passive income (gold eggs). This is especially when you have a specific range of housing prices and rather spend your hard-earned money elsewhere.
The bitter pill is that this duck will definitely die one day – what we know as the decaying lease, but that is a reality for all leasehold buildings in Singapore.
The Property Runway's Take?
This is definitely perfect for a multi-generation family to live and thrive, even when we have to work from home or do home based learning moving forward.
If you have a more conservative approach to real estate investment and simply want a property to generate passive income for you over time, slowly and steadily, this is a good property type to look at.
If you are young, and capital appreciation is a bigger priority than passive income or space, this is not the property for you. There are many other opportunities out there, as long as you are clear on what you want, and the tools you need to get there.
References